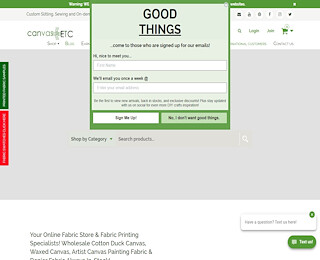 What is a duck cloth? We promise that it does not have anything to do with birds, and it is a purely vegan-sourced cloth with dozens of benefits. The duck cloth fabric is made of cotton and has a tight structure that is smooth and durable. It is easy to take care of this cloth because it has a smooth texture that does not hold onto a lot of dirt and is more weatherproof than the usual cotton. You can find duck cloth in industrial applications or light work textile industries, so you are not limited to a few simple types that are impossible to manipulate.
What Makes Up The Duck Cloth Wholesale Fabric?
It is a heavy woven fabric made of cotton with threads and warps at a right angle to one another. It is similar to the canvas fabric, hence its name, canvas duck. Almost all duck canvas materials do not contain synthetics and have a somewhat different weaving technique that is more durable than regular fabric.
The basic weaving technique is more durable because the threads lay against one another with much more tightness. You can find a wide array of colours for duck cloth fabric, including the plain and natural unbleached cotton that is smoother and softer.
Unique Properties Of The Duck Cloth Fabric
The tight weave of the cotton fabric cloth makes it more formidable against tearing and snagging.
The threads on the fabric are more course than a standard cotton canvas, hence more durable against weather changes.
It is better to use this fabric for applications needing heavy fabric instead of leather, which is harder to manipulate even if it is just as durable.
Applications Of The Cotton Duck Canvas As A Utility Fabric
People have been using this canvas to paint since the 14th century. Artists would use duck canvas made of materials like hemp, and today's technology is making it easier to produce canvases containing materials like cotton. We suggest using the cotton one today because it is more economical and a premier choice if you want to use oil paint or achieve more uniformity. Advantages of cotton duck fabric include:
The smooth surface is a perfect one when you are using a small paint brush or one with a smaller needle.
The canvas is more affordable because cotton is more readily available
The natural cotton fibres on the canvas are more resistant to burning, and therefore your paint will retain its state for longer during a minor fire outbreak
Cotton canvas is more durable and, therefore more accessible for you to transport because you can fold it in any way
Woven cotton fabric canvas is a lot more durable and has optimal characteristics for premium paint projects that should last for years or decades into the future
Cotton has better colour and treatment retention, making it better when you want little or no maintenance after you complete the painting
Canvas ETC prides itself on our ability to offer as many different types of duck canvases as possible, and we are confident you will find the right one when you look through the store. Click here to start your search on the canvas and duck cloth.